Haircuts & Hairstyles for Men
Certain trends may come and go, but the best men's haircuts and hairstyles never go out of fashion. We're not talking 80s-style perms, man-buns, or infamous mullets, but modern cuts so timeless that they won't come back to haunt you at a later date. Indeed, you already have enough content on your social media pages to worry about.
Some of these men's haircuts go back centuries, others decades. Each one is effortlessly appealing and certifiably fresh, even if it's been around for ages. That's arguably what makes it a true men's haircut since if something's not broken there's no need to fix it.
Sure, you can roll the dice on some flash-in-the-pan hairstyle ripped off the pages of a hipster website, or you can head into the barbershop and ask for a cut that always works. Should you prefer the latter, allow our definitive list of the 10 best haircuts and hairstyles for men to be your guide.
1. Undercut Hairstyles
Short on the sides, longer on top. That's the essence of a classic undercut, which works with various styles of men's hair (curly, wavy, straight, etc). You can sculpt the top hair as you see fit, slicking it back or spiking it up or anything in between.
From a general perspective, there are two overarching types of men's undercuts: disconnected and faded. If you've seen Cillian Murphy's handsome hairstyle in "Peaky Blinders," then you know all about the disconnected undercut. It's distinguished by a sharp contrast or clear divide between shorter and longer hair.
A fade undercut, meanwhile, gradually tapers as the short sides climb toward the top. The result is a somewhat greater sense of uniformity or flow. Which type of undercut is the right one for you? That's a question for you and your barber. But we can help steer you in the right direction with our article on short haircuts and hairstyle tips.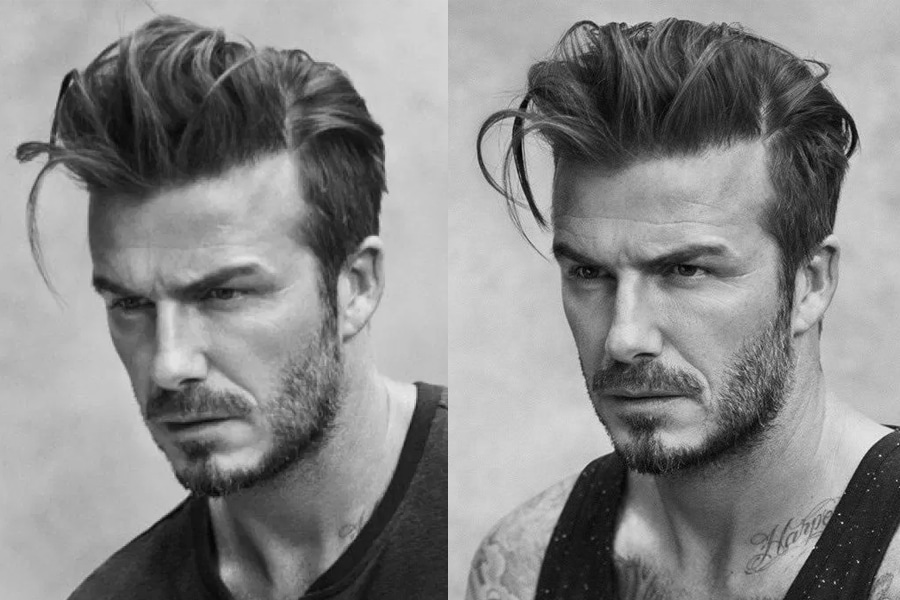 2. Textured Pompadour Hairstyles
Here's a top men's haircut that seems like it should have gone out of style at some point, but never has. And if you think it looks dated, we'll let you be the one to inform David Beckham, who's no stranger to the pompadour. Of course, Elvis Presley remains the most iconic celebrity to rock this famous haircut, which has remained in vogue since the days of "Jailhouse Rock."
Like an undercut or fade, the men's pompadour generally features short hair on the sides and longer hair on top. What distinguishes this style from others is the healthy volume of swept-up hair at the front, which gradually recedes toward the back. Its popular cousin, the almighty quiff, strikes a similarly stylish accord.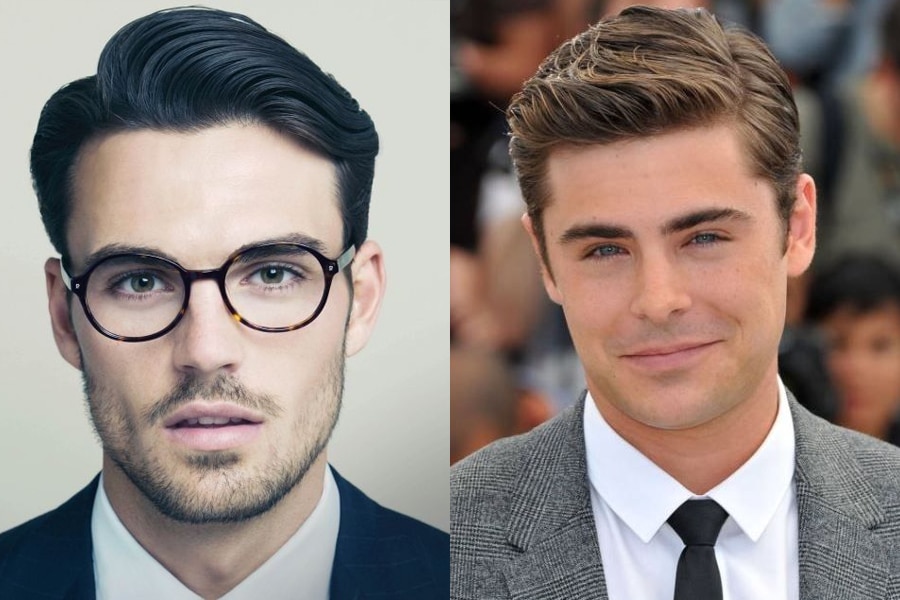 3. Side-Part Hairstyle
Just how timeless is the men's side part, you ask? Timeless enough to straddle six decades or more, as evidenced by the perennial appeal of Don Draper's slicked-back approach.
A business world staple, the side part requires a decent amount of length and volume and works best with thick, straight hair. The most quintessential example involves a taper on the sides and longer hair on top.
Using a little product and a comb, sweep the top hair toward one side. Voila! Side part. If you want a more conservative look, ask your barber for a low fade.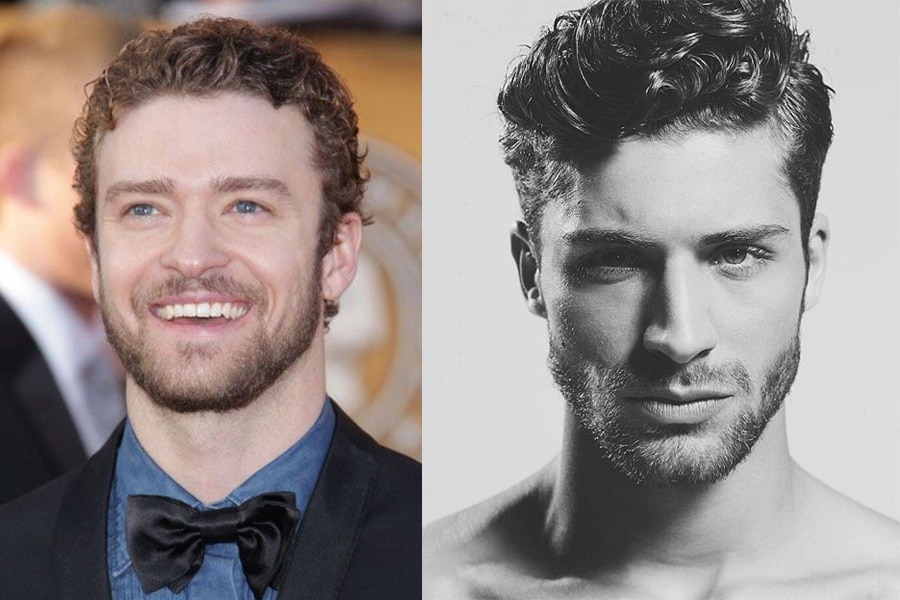 4. Short Curly Hair with a Trimmed Beard
Epically long beards are all the rage these days, but we're not convinced they won't one day be viewed as a relic of their time (they're kind of retro in the first place, after all). The well-trimmed beard, however, makes for a solid look no matter what the era. Pair that trimmed beard with a head of short, thick, and curly hair to achieve a style that's equal parts approachable and masculine.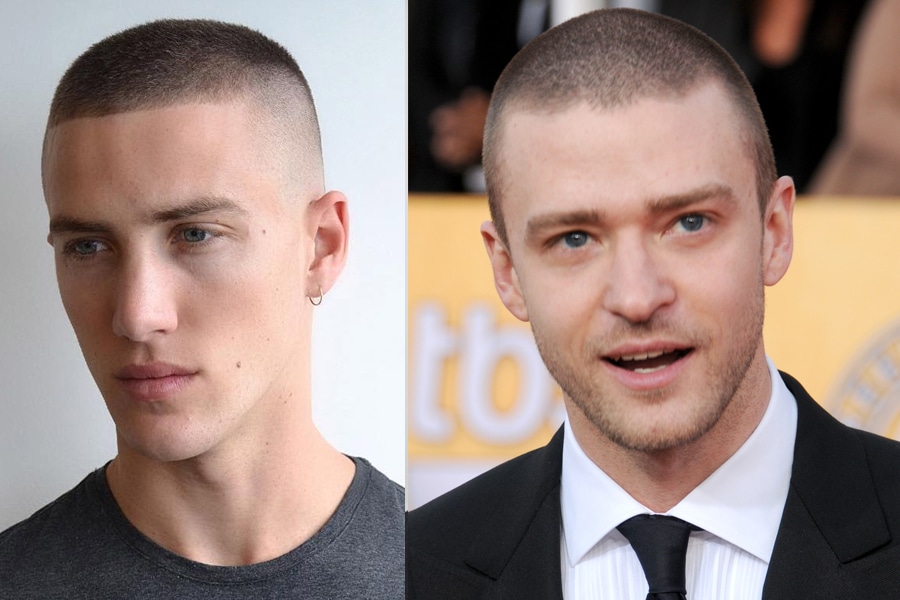 5. Buzz Cut Hair
True to its name, the buzz cut puts the electric buzzer to use, going short on all sides. It wades in and out of popular culture on a regular basis, but never really stops trending. Brad Pitt and David Beckham are just two among a broad number of celebrities to give this classic cut its proper due.
Needless to say, no list of the best men's haircuts is complete without the buzz cut. After all, who doesn't love a hairstyle that requires little to no maintenance? On the other hand, you should remain conscious of the cut as a style statement. Consider pairing it with edgy or even aggressive get-ups, thereby heightening its overtly masculine qualities.
6. Caesar Hair Cut
If a men's haircut has been in style since the days of Roman emperors, one can safely assume its status won't be changing anytime soon. Distinguished by short layered hair with a tight horizontal fringe, the Caesar Cut conjures associations with power and authority. To give this centuries-old haircut a modern upgrade, incorporate a fade around the sides.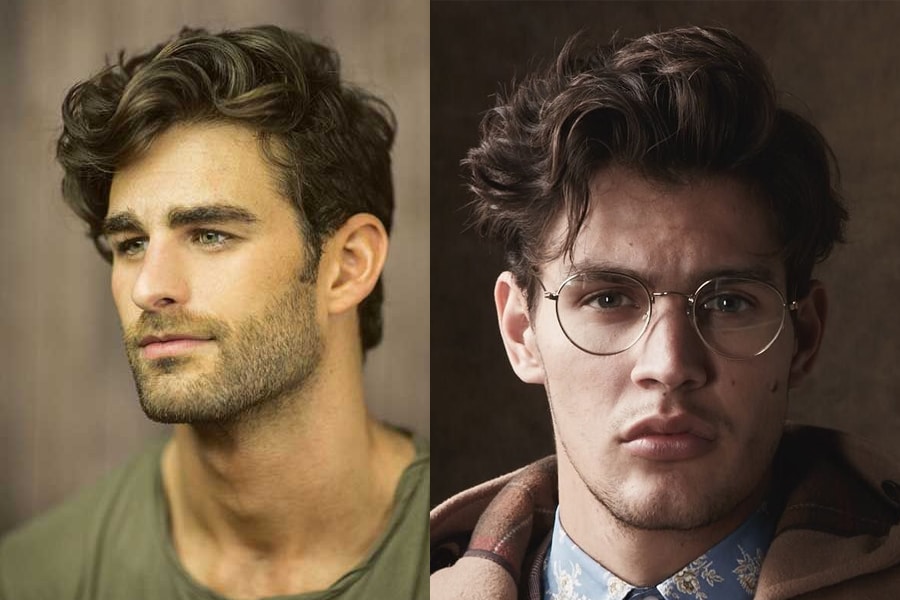 7. Messy Waves Hairstyles
Best described as purposefully unkempt, the messy waves hairstyle requires more maintenance and intent than first meets the eye. Take a little product and get to work with those strands, aiming for a look that falls somewhere Haircut between sculpted and casual. You're so cool.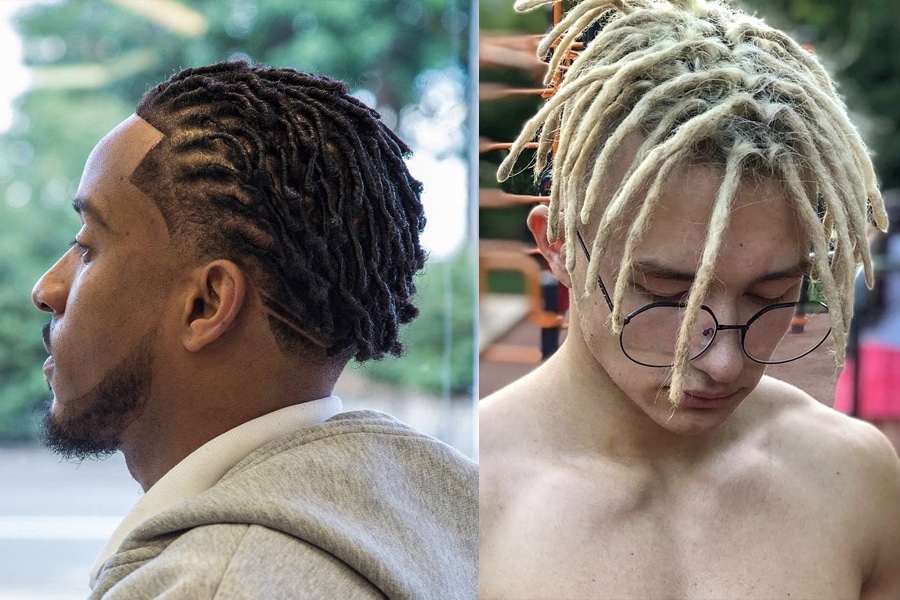 8. Short Dreads Hair
If there was a time when short dreads were anything but awesome, we aren't aware of it. Once popularised by painter Jean-Michel Basquiat, this men's hairstyle requires copious amounts of time and control. If you don't know what you're doing, it's best to put your hair in the hands of a barber. While we're on the subject: long dreadlocks are pretty amazing as well.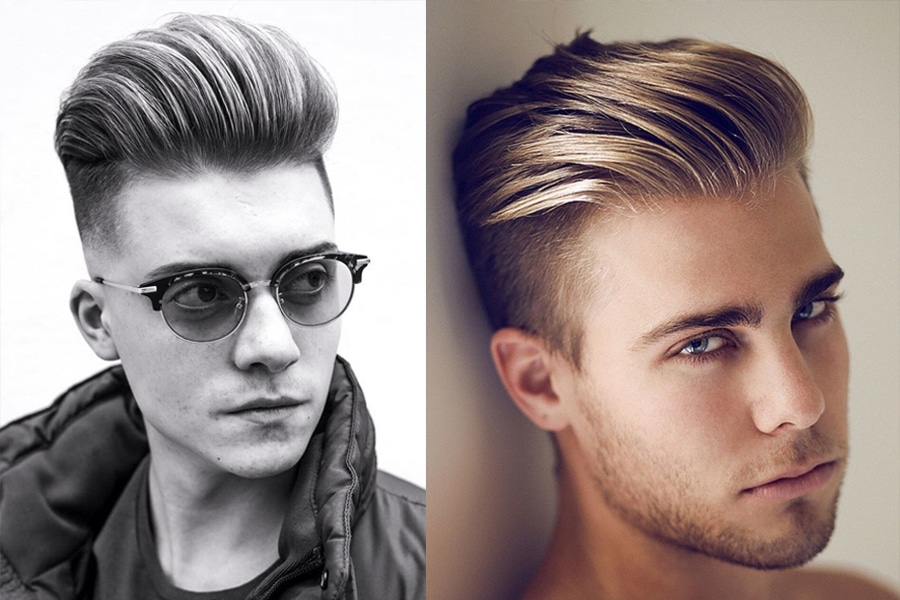 9. Slicked Back Hairstyles
Like the trusty side part, the slicked-back hair cut has been a mainstay in the business world for decades. As such, it remains synonymous with the utmost tier of power and professionalism.
However, it seems that with each passing year the slicked back cut becomes a tad less slick. On that note, a quick word of advice: don't overdo it with hair products. You want a look that's voluminous and natural, not brittle.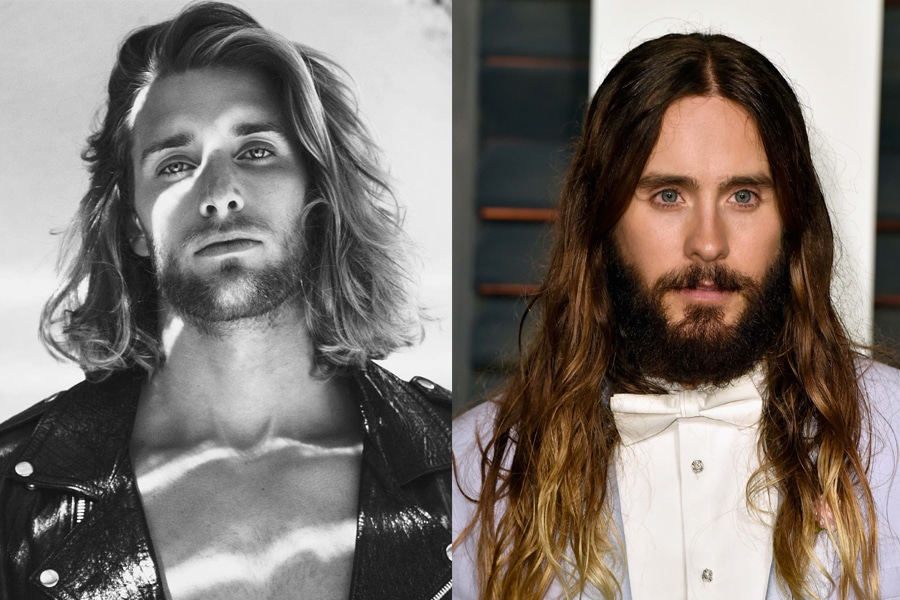 10. Long Wavy Hairstyles
We might have poked fun at 80s glam metal haircuts in the introduction, but don't let that deter you from growing out your god-given follicles. In fact, if you're among the few lucky men who can pull off the long and wavy look, you should do just that. Synonymous with virility, it's a men's hairstyle that draws all the right eyeballs in your direction. And if you need some extra pointers, be sure to scope our article on long haircuts for men.
FAQ
What men's hairstyles are in right now?
Many hairstylists agree that relaxed quiff is on-trend at the moment.
What are the most popular men's hairstyles?
Some of the most popular hairstyles for men currently are the pompadour, the undercut and the slicked back.
What hairstyle is best for men's hair?
For this style, as seen in Welsh actor Andrew Whitfield, the hair is cut clipper-short on the sides and back and left finger length on top. The hair is styled using a light pomade or gel and brushed forward with the fingers. This will help conceal a receding hairline and thinning top.
What kind of hairstyle suits me?
If you have curly hair, avoid a short haircut for this face shape. Long straight hair looks good on this type of face shape. If you have sleek, straight hair and want to experiment with a short haircut, then a defined pixie cut with long, side-swept bangs that fall on your cheekbones is the one you should opt for.
Are haircuts good for hair men?
With a regular haircut, you will definitely feel and look great knowing your hair is protected from all these damages. Getting a regular haircut, as mentioned a while back, means healthier hair. This can benefit men out there who already have receding hair.
Conclusion
Hair is one of those things that we all need but don't want to talk about. It's something that we just accept as part of our bodies. We're used to seeing people with hair loss, baldness, and even hair transplants. But what if we could make hair grow? What if we could give ourselves hair? Well, we can! And we can do so cheaply and easily using the latest technology available today.