Introduction of the Top 10 Best Piano Brands In The World
What are the best piano brands?
There are a few piano builders who handcraft extraordinary instruments – grand pianos so well made that they have surpassed all others in
performance and virtuosity. These best piano brands are lauded as Top Tier performance brands, infinitely higher quality than the mass-
manufactured pianos with perhaps the more familiar-sounding names. It stands to reason that these European pianos with artistic designs are
proportionally more expensive, most coveted, and chosen by pianists who treasure excellence in both sound and art in a grand piano.
1. C. Bechstein Piano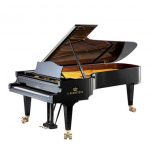 With German origins dating back to 1853, the C. Bechstein pianos cannot be ignored.
The C. Bechstein cabinetry is much sleeker and more sophisticated than the B series. The C. Bechstein plates receive the royal hand-rubbed finish;
actions. Although the B-series pianos are, generally speaking, very good instruments with a slightly warmer default tone quality, the C. Bechstein models clearly outperform this less expensive line.
Warranty: 5 years, parts and labor, to the original purchaser.
Price Range of Bechstein Grand Piano Models:
C-Series: $119,000 – $320,000
B-Series: $67,000 – $110,000
2. Blüthner Piano
Blüthner has been making pianos of the highest quality in Leipzig, in the eastern part of Germany, since 1853, and which has always remained under the management of the family.
builds approximately 100 verticals a year in four sizes, and 500 grand a year. . Sustain is good, and at a low level of volume, gives the tone a refined, delicate character. The action is light but responsive. The pianos are built of superb mThe effect, heard mainly in medium to forte playing, is similar to that of a duplex scale, adding tonal color to the treble and aiding the singing tone.
. Bluthner modified a grand piano (reduced the weight) for use on the Hindenburg airship.
Another example is their ambitious transparent piano. The Lucid piano is realized in reinforced Plexiglass exposing the beauty of what's within.
designed. The addition of LED illumination of the inner and outer rim of the piano case will add a touch of magic and transform your interior into real-life Neverland.
This manufacturer with its roots in the 1800s comes up with wonderful futuristic designs.
Warranty: Blüthner — 10 years, parts and labor, to the original purchaser.
Price Range of grand piano models: $83,000 to $300,000
3. Bösendorfer Piano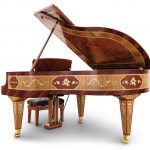 In 1828 in Vienna, Austria, Ignaz Bösendorfer founded his luxury piano company and rose to fame when Franz Liszt endorsed his concert grand. Liszt had destroyed every other piano set before him and was unable to destroy this one no matter how hard he played it.
Bösendorfer was named the official piano maker to the Emperor of Austria in 1830.
The Imperial Grand model is over 9'6" in size and boasts a 97-key keyboard with 8 octaves, making it a special-looking and special sounding concert grand on many stages even today. Several composers have taken advantage of the extra bass keys including Busoni, Bartok, Debussy, and Ravel.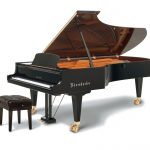 After Ignaz's death, the company changed hands. This is similar to what happened the to Steinway piano company. A financial institution owned it for
a while until Bosendorfer was purchased by Yamaha, the Japanese piano maker, in 2006. Yamaha maintains Bosendorfer as a totally separate business and has promised to make no changes to the location or methods of production.
Bösendorfer, another tier-one boutique brand, is one of the best acoustic piano brands that manufactures fewer than 500 pianos a year, with closet
half of them sold in the U.S. They make. It has the same keyboard as the 5′ 8″ grand, ensuring a great touch despite the instrument's small size.
Bosendorfer offers many choices in customization with rare woods, and many classical and baroque designs (named after Strauss, Lizst, Chopin, etc.) Its rich history and survival shine through in the quality and classiness of its instruments.
Warranty: 10 years, parts and labor, transferable to future owners within the warranty period.
4. FAZIOLI Piano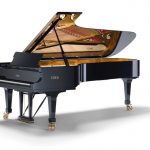 Increasingly Fazioli is taking center stage, chosen by pianists for competitions, concerts, and personal enjoyment. Fazioli offers a flawless reputation for performance quality, reliability, and a vast choice of customization elements.
In 1978, concert pianist and engineer Paolo Fazioli began studying and refining pianos, with the object of making the absolute finest quality instruments possible. There is no doubt that this manufacturer has surpassed the best of the best. Now even the most famous piano makers of Western Europe and artists throughout the world recognize Paolo Fazioli's accomplishment.
Artists like Herbie Hancock, and professional classicists who are most familiar with, they describe them as sources of inspiration with a wide color palette and dynamic range. The instruments combine unusual power with great warmth in a way that causes music played on them to be dynamically unique to most other pianos. Fazioli pianos
Fazioli embodies are second to none.
Warranty: 10 years, parts and labor, transferable to future owners within the warranty period.
Price Range of Grand Piano Models: $120,000 to $500,000
5. Grotrian Piano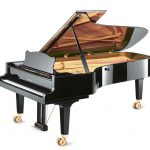 The Grotrian brand began as a partnership in 1853 between Friedrich Grotrian and C.F. Theodor Steinweg. Theodor was the son of Heinrich Steinweg who in 1850 emigrated to the US and established the firm Steinway & Sons.  partnership to Wilhelm Grotrian, son of Friedrich.  Germany product. 6th Generation Grotrian family members are still involved in management.
Grotrian pianos are known for their treble's extraordinary sustaining characteristics and have a pronounced sound of attack which is subtle and light. The tenor is darker than many other pianos, with powerful bass. Grotrian pianos are endorsed and appreciated by many famous pianists.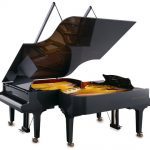 The Grotrian Duo is a famous innovation of two grand pianos joined together so they can be played as one instrument. (They come apart for moving).
Warranty: 5 Years of parts and labor, transferable to future owners
Price Range of Grand Piano Models: $67,000 to $165,000
6. Sauter Piano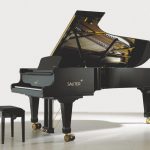 Six generations of Sauters have owned the Sauter piano firm since 1819. The company is currently run by Ulrich Sauter in Spaichingen, Germany.
many with intricate detail and inlay work. Customizing such rare woods as yew, burl walnut, pyramid mahogany, and genuin This year Sauter
celebrates a 20-year relationship with renowned European designer Peter Maly, whose designs have resulted in several
prestigious awards for the Sauter company. Sauter pianos are famous for the variety of finishes and styles in which they are available,
is a 7′ 6″ grand that is asymmetrically curved on both the bass and treble sides.
Some extremely unusual models have been created. One was the 7′ 3″ model 220 has colored lines painted on the soundboard and white inlays on the tops of the dampers as guides for musicians performing music for "prepared piano," ultramodern music requiring the insertion of foreign objects between the strings, or the plucking or striking of strings directly by the performer.
Warranty: 5 years, parts and labor, to the original purchaser.
Price Range of Grand Piano Models: $95,000 to $230,000
7. Shigeru Kawai Piano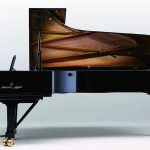 When one thinks of luxury grand pianos, European brand names usually jump to mind.
to spin off a bespoke piano branch to build the finest quality grand piano money could buy. Shigeru Kawai is the dream product of Shigeru, the son o
company founder, Koichi Kawai.
Fewer than 300 limited-edition pianos are handmade each year at a separate special facility where Kawai's EX concert grands and six SK models of brands are built
Warranty: 10 years, parts and labor, transferable to future owners within the warranty period.
Price Range of Grand Piano Models: $64,000 – $239,000
SK-EX Concert Grand
SK-7 Semi-Concert Grand
SK-6 Orchestra Grand
SK -5 Chamber Grand
SK-3 Conservatory Grand
SK-2 Classic Salon Grand
8. Steinway & Sons Piano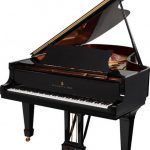 Heinrich Engelhardt Steinweg, from Seesen, Germany, emigrated with his family to the United States in 1850, and established Steinway & Sons in 1853.  of these patents created a stronger frame, a richer sound, and a more sensitive action. By the 1880s, the Steinway piano was already in most ways the modern piano we have today, and in the next generation,
As longstanding fans of the digital piano revolution (as you've noticed from our website), we've reviewed and tested dozens of digital pianos throughout the years.
the standards set by the founder were strictly followed.
The underlying excellence of the Steinway musical designs and the integrity of the construction process are the hallmarks of the Steinway piano
Steinway pianos at their best have the quintessential American piano sound: a powerful bass, a resonant midrange, and a treble with tonal color. The
product put it at the low end of our list of high-end instruments. Steinway pianos require committed dealers with technical resources to manage the uneven quality of the product.
The 6′ 10½" Steinway model B is the favorite of many piano technicians. It is a popular choice for the serious pianist, recording or teaching studio, or small recital hall. The 8′ 11¾" model D, the concert grand, is the flagship of the Steinway line and the piano of choice for the majority of a concert pianist. Steinway company has done an incredible job over the past decades signing up pianists to their roster.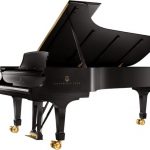 Warranty: 5 years, parts and labor, to the original purchaser
Price Range of Grand Piano Models: $66,000 – $215,000
9. Steingraeber & Söhne Piano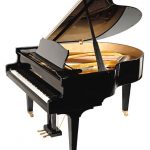 We can't talk about the best piano makers without highlighting one of the world's best-kept secrets, a company founded in 1852 by Eduard Steingraeber in the old part of Bayreuth, Germany (famous for the annual Wagner festival). An innovative designer, Eduard exhibited his first cas
iron piano frame at the Paris world exhibition in 1867, and opened Bayreuth's first concert hall in 1873.
The smallest one, model A-170 ha
Steingraeber pianos have a unique sound and an extensive tonal palette with a mix of clarity and warmth.
Warranty: 5 years, parts and labor, transferable to future owners within the warranty period.
Price Range of Grand Piano Models: $102,000 – $ 270,000
Concert Grand E-272
Semi-concert Grand D-232
Chamber Concert Grand C-212
Salon Grand B-192
Salon Grand A-170
10. YAMAHA Piano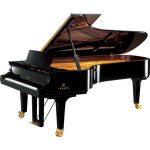 . The new CF Series, one of two Yamaha Premium Collection lines, comprises the 9′ model CFX (replacing model CFIIIS), and the 6′ 3″ model CF4 and 7′ model CF6, higher-grade soundboards, a treble "bell" (as in the larger Steinways) to enhance treble tone; German strings, and hammer and scaling changes, for a more mellow tone.
The models CF4 and CF6 have an open pin block
design reminiscent of some European pianos, which gives the tuner slightly greater control over the tuning pins. Yamaha says that the CF series
represents 19 years of research and development by its craftsmen, designers, and engineers.
FAQ.
What is the Best Piano for You?
For those seeking a digital upright, we have to recommend the Yamaha Clavinova CLP-775.
What's the best digital piano for small spaces?
If space is an issue, then it's worth checking out the slimline digital pianos on this list, and
Our top choice for an acoustic piano is the Kawai K-800.
What are the best pianos?
Below we've listed what we believe are the best pianos out there right now, featuring both acoustic.
What are the Best Pianos for Beginners?
In our opinion, the Yamaha Arius YDP-144 is one of them and offers the most bang for your buck in the Arius range.
What is the YDP-144?
So if you're looking for a good-looking piano with a great sound.
What are the Reasons to Buy or Not?
Reasons to buy Reasons to avoid Roland describes the RP501R as "your ideal first piano
What are the benefits of Morphing AiR?
It may not have as many voices as the Roland, but the Multi-dimensional Morphing
What is the best beginner piano?
Reasons to buy Reasons to avoid The Casio Privia PX770 may be the most affordable slimline with the big boys.
Conclusion
Euro Pianos Naples is a respected distributor of European luxury musical instruments. The company's origin dates back to 1965. Euro Piano. Apart from being a successful retailer, consultant, and entrepreneur organization, Euro Pianos is actively engaged in the artistic and community life of Naples, Florida as an organizer and supporter of musical events throughout the years.